Innovations in prostate cancer research during moustache season and beyond
2012-11-12
The growing display of moustaches this month shows the influence of the Movember campaign, which promotes the growth of the "furry ribbon" to change the face of men's health. So with men's health on more minds, and upper lips, this month is a great opportunity to showcase the incredible innovations in research at Mount Sinai's Samuel Lunenfeld Research Institute.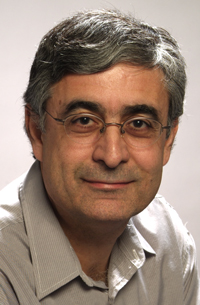 Dr. Eleftherios P. Diamandis
Leaders in men's health research at Mount Sinai's Samuel Lunenfeld Research Institute include Dr. Eleftherios Diamandis, Associate Member at the Lunenfeld and the Hold'em for Life Chair in Prostate Cancer Biomarkers; his colleague Dr. Andrei Drabovich, a post-doctoral fellow at Lunenfeld, and who is supported by the Canadian Real Estate Industry Hold'em for Life Charity Challenge; and Dr. Keith Jarvi, Associate Member at the Lunenfeld and Director of the Murray Koffler Urologic Wellness Centre and Head of Urology at the Mount Sinai Hospital. Together, this group of scientists is working toward improving prostate cancer treatment options and quality of life after surgery.
One goal is to create an alternative to the standard diagnostic biopsy ¯ an invasive test given to all men when prostate cancer is suspected.
"All men with a positive PSA (prostate-specific antigen) test currently undergo a biopsy to determine if they have cancer," explains Dr. Diamandis. "However, only 20 per cent actually have prostate cancer, so the remaining 80 per cent are unnecessarily subjected to the invasive biopsy procedure as well as the emotional stress of thinking they may have cancer."
Dr. Keith A. Jarvi
Another goal is to distinguish between and aggressive and non-aggressive disease for patients diagnosed with prostate cancer via PSA test and biopsy. Researchers at Mount Sinai are searching for new biomarkers for aggressive prostate cancer (the more deadly type of disease). The goal is to use these markers to identify men with aggressive prostate cancer who would benefit from surgery or radiotherapy.
"This could save men with the less aggressive forms of prostate cancer from radiation or surgery," said Dr. Jarvi, whose study in this area was recently published in the Journal of Biological Chemistry.
Dr. Jarvi also focuses on survivorship, which addresses the physical and emotional issues men face after a diagnosis and/or surgery. Mount Sinai has specialized programs at the Murray Koffler Urologic Wellness Centre to help symptoms of prostate cancer survivors.
"The very therapy which cures the men of prostate cancer may cause serious medical problems for the survivors. That's why we are working to improve life after surgery," said Dr. Jarvi.
As these three clinician-scientists demonstrate, dedication to men's health extends well beyond moustache season.
By Sandeep Dhaliwal