Salomé Adam
2018-07-19
A new study from the Durocher lab is a result of a very productive collaboration between trainees and with other research labs. Here, Salomé discusses her contributions and her motivations and aspirations.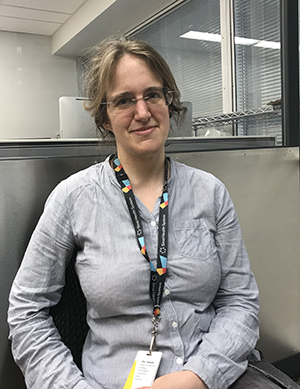 Salomé Adam
Salomé has worked in Dan Durocher's lab as a post-doctoral fellow for the past three years. She is originally from France where she earned her PhD. After a short internship in England she decided that she wanted to conduct her post-doctoral studies abroad. She was at a meeting when she heard about research in the Durocher lab and saw how it aligned with her own interests. When Salomé arrived in Toronto, her new lab was starting to implement CRISPR/Cas9 screening. It was an emerging technique for high throughput analysis and Salomé wanted to learn new techniques and ways of thinking. Previously, she had specialized in cell culture and microscopy during her PhD. She was interested in the cellular DNA damage response but her work was more focused on chromatin than DNA repair.
In the Durocher lab she began to investigate cells that were defective in the BRCA1 gene and certain cancers that are typically highly resistant to a class of drugs termed PARP inhibitors (see the story on Dheva Setiaputra). A library of CRISPR guide RNAs (gRNAs) were introduced into a population of cells that were resistant to the drugs in culture were screened for re-sensitization. The genes that were targeted by the gRNAs that restored drug effectiveness were then characterized. Reassuringly, these genes included several that were previously demonstrated as being important for the PARP pathway. But some encoded a novel group of interacting proteins that the lab termed the Shieldin complex that acts downstream of a protein termed 53BP1. This finding allowed the team to reconstruct the events that occur upon DNA damage. First, as was known, 53BP1 and another protein termed RIF1 bind to DNA at sites of damage. They then recruit the Shieldin complex which acts to protect the DNA ends from being attacked by nuclease proteins. In this way, the Shieldin complex stabilized the damage and prevents aggravation of the lesion. When the Shieldin components were inactivated, the team found that DNA repair was inhibited. Other aspects of biological function were also found to be impaired with loss of Shieldin, such as a process termed antibody class switching that occurs during the evolution of an immune response.
The aspect that Salomé enjoys most about research is working at the bench in the lab. She knows that researchers advance in their careers, they tend to work less and less at the bench but she hopes she is always able to leave time for hands-on benchwork. She notes that in science the questions are often quite simple but the due to the complexity of biology the answer to a simple question can end up being extremely complicated.
One of the main challenges that Salomé faces on a daily basis is working with living things. When working with cultured cells it's important to grow them and keep them alive - which isn't easy. Some of the time they stop growing or begin to die, so it's important to find out the optimal conditions that promote growth and survival. Salomé finds these and other experimental challenges both frustrating and invigorating – but nothing beats an interesting result that emerges from critical thinking and problem solving. She notes that working collaboratively can make it easier to solve bigger questions. We each only have one pair of hands, so there is only so much any one person can do on their own. Working together also allows ideas to bounce off of each other to reach the common goal of discovery.
Salomé hopes to one day return to France as she misses the country where she grew up. She hopes to continue academic research and to improve knowledge so that better therapies emerge to treat cancer.
By Sophie Lily Polan