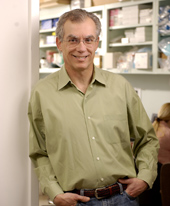 Lunenfeld-Tanenbaum
Research Institute
Mount Sinai Hospital
Joseph & Wolf Lebovic Health Complex
600 University Avenue
Toronto Ontario
M5G 1X5
Tel.: 416-972-0777
► Web of Science Researcher ID
E-3775-2013
Dr. Robert F. Casper
SENIOR INVESTIGATOR
Dr. Robert Casper has given many couples new hope for a healthy pregnancy. As a leader in fertility treatment, Dr. Casper has won international recognition for his research and patient care.
Dr. Casper's research led to the development of a new treatment, originally approved for the treatment of breast cancer, for ovulation stimulation in infertile women that doubles a patient's chances of pregnancy compared to older treatment. He is also leading research in endometriosis - one of the most common causes of pelvic pain and infertility in women - and is developing a genetic test that would detect young girls at risk of the disease, allowing for preventative treatment.
Interested by innovation and new ideas, Dr. Casper has also initiated studies in melatonin production in night shift workers. Melatonin has been shown to be an anti-cancer hormone and decreased levels have been connected to increased incidence of prostate, colon and breast cancers in shift workers. After studying the impact of light wavelengths on melatonin during peak production hours, Dr. Casper has proposed a new device that would protect individuals from depleted melatonin levels and reduce risk of cancer, as well as preventing depression and diabetes.
Dr. Casper is also doing exciting work in cord blood banking and in research to extend the medical applications of banked cord blood samples. He founded Canada's first cord blood bank at Mount Sinai Hospital, and as Scientific Director of Insception Biosciences (the company now leading the program) he continues to play a key role in cord blood banking and stem cell research.
Finally, Dr Casper is studying the possibility of reducing the risk of breast cancer in menopausal women on hormone replacement therapy by the addition of an aromatase inhibitor.
Dr. Casper is Medical Director for the Toronto Centre for Advanced Reproductive Technology, an independent fertility clinic and leading fertility research centre.
At a Glance
Dr. Robert Casper leads research on fertility and endometriosis and also studies stem cells, shift work and cancer risk
He holds the Camille Dan Family Research Chair in Translational Cell Biology
He established Canada's first cord blood bank at Mount Sinai Hospital
His research has led to the development of a new treatment for ovulation induction that doubles a patient's chances of pregnancy compared to previous treatments, and he has developed an experimental technique that improves embryo development under in vitro conditions
Did you know...? It's estimated that 1 in 6 Canadian couples are infertile
Dr. Casper has also developed special glasses for night shift workers - the glasses that block out the blue range of light and prevent disruptions in biological rhythms
Major Research Activities
The Casper lab undertakes a number of major areas of research aimed at improving clinical practice and patient care. One is the investigation of the role of mitochondrial mutation in oocyte aging. The lab also focuses on the in vitro expansion of human umbilical cord blood stem cells and their use for tissue therapeutics. The third area of research is the use of aromatase inhibitors for induction of ovulation and for improving implantation in assisted reproductive technology.