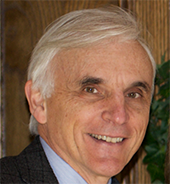 Division of Cardiology
Mount Sinai Hospital
Joseph & Wolf Lebovic Health Complex
1614-600 University Avenue
Toronto, Ontario
M5G 1X5
Tel.: 416-586-4800 ext.8704
► Web of Science Researcher ID
D-4042-2015
Dr. John S. Floras
SENIOR CLINICIAN SCIENTIST

Dr. John Floras, Professor in the Department of Medicine and Canada Research Chair (Tier 1) in Integrative Cardiovascular Biology, is a consultant cardiologist and an internationally recognized expert in autonomic and hormonal regulation of the heart and circulation in health and in heart failure, hypertension, sleep apnea, kidney failure, diabetes, aging and menopause.
He received an MD degree (University of Toronto) and a DPhil from Oxford. He is Deputy Physician-in-Chief, Research, Mount Sinai Hospital; Director of Cardiac Research, UHN-MSH Division of Cardiology; and a member of the Toronto General Research Institute, Heart and Stroke/Richard Lewar Centre of Excellence and the Banting and Best Diabetes Centre.
He was a Trustee and Chair of the Board of the Banting Research Foundation (2009-2015), President of the Canadian Hypertension Society (2001-2002) and recipient of the 1990 Royal College of Physicians of Canada Medal in Medicine and the 1994 Pfizer Award of the International Society of Hypertension. In 2010, he delivered the Distinguished Prize and Lectureship in Cardiovascular Sciences of the CIHR's Institute of Circulatory and Respiratory Health and received in 2011 the Canadian Cardiovascular Society Research Achievement Award. In 2014 he was elected a Fellow of the Canadian Academy of Health Sciences.
Clinical trial leadership roles include Vice-Chair of the CANPAP trial of Continuous Positive Airway Pressure and the ADVENT-HF trial of adaptive servo ventilation for the treatment of sleep apnea in heart failure.
He has published over 230 articles in peer-reviewed journals and co-edited the first text on Sleep Apnea and Cardiovascular Disease.
At a Glance
Consultant Cardiologist
Deputy Physician in Chief, Research, Mount Sinai Hospital
Director of Research, University Health Network and Mount Sinai Hospital Division of Cardiology
Tier 1 Canada Research Chair in Integrative Cardiovascular Biology
Studies human cardiovascular regulation in health and disease
Recognized to have made some of the most important contributions over the last 2 decades concerning the role of the autonomic nervous system in cardiovascular health and disease
Major Research Activities
Dr. Floras' current research focuses on the elucidation and modulation of paradoxical reflexes that increase norepinephrine release from sympathetic nerve endings in heart failure; brain regions altered in heart failure and sleep apnea that amplify such reflex pathways; the impact of kidney failure and modes of dialysis for its treatment on hypertension and coronary artery blood flow, and the effect of treating obstructive sleep apnea or central sleep apnea, when present in heart failure, with adaptive servo ventilation on cardiovascular mortality and hospitalization.