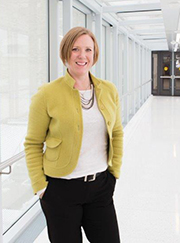 Bridgepoint Collaboratory in Research and Innovation
Lunenfeld-Tanenbaum Research Institute
Sinai Health
14 St. Matthews Road
Toronto, Ontario
M4M 2B5
Tel.: 416-461-8252 ext.2893
Dr. Michelle Nelson
INVESTIGATOR
Dr. Michelle Nelson is a health services researcher at the Bridgepoint Collaboratory in Research and Innovation. She is an Assistant Professor (Status) within the Division of Clinical Public Health - Dalla Lana School of Public Health (University of Toronto) and an Adjunct Professor at Ryerson University in the Daphne Cockwell School of Nursing.
She holds an MA and a PhD from University of Manitoba.
Dr. Nelson's program of research is funded through grants from CIHR and donors such as Manulife. Her program of research focuses on issues related to providing rehabilitative care for complex patients. It is designed to foster partnerships between rehabilitation researchers and knowledge users to produce research that directly responds to the information needs of clinicians and administrators, as well as expedite the application of study findings into the provision of rehabilitation services.
Her previous work has shown that much of the stroke rehabilitation evidence used to develop clinical guidelines exclude patients with comorbidities, and that clinicians rely on experience and teamwork to manage this patient population.
Building on these results, she is working to understand how clinicians successfully manage patients with multiple health and social concerns in order to identify scalable clinical principles and processes.
In addition to academic publications and presentation, Dr. Nelson's work has clinical level impact. Her work has driven best-practice changes that earned Bridgepoint's Stroke Rehabilitation Program a Stroke Distinction Award from Accreditation Canada, one of only eight rehabilitation hospitals in Ontario to earn the distinction.
At a Glance
Dr. Michelle Nelson is a health services researcher and expert in complex stroke rehabilitation and interprofessional education and practice
Dr. Nelson leads a national and international research network focused on complexity and stroke rehabilitation.
Research results will support the development of clinical practices and guidelines that are applicable for the complex patients often seen in clinical practice.
Major Research Activities
Dr. Nelson is currently leading several studies focused on better understanding the evidence available to interprofessional rehabilitation teams, and exploring the role of hospital volunteers in improving stroke rehabilitation patients' experiences and outcomes.