Diabetes: disease of the 21st century will affect approximately 500 million by 2030
2012-11-23
Mount Sinai's Samuel Lunenfeld Research Institute is transforming diabetes care for millions of Canadians through innovative treatment therapies that are improving the quality of life for our patients. Through groundbreaking regenerative medicine, we will also soon create stem-cell based treatments for diabetes. Read on to find out how.
Innovative diabetes research collaborations
At Mount Sinai's Samuel Lunenfeld Research Institute, the innovative research collaborations of Dr. Bernard Zinman and Dr. Daniel Drucker are leading to the enhanced treatments, improved health and better quality of life for millions of people with type 1 and type 2 diabetes.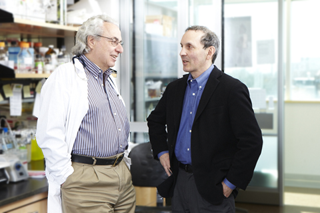 Dr. Bernard Zinman and Dr. Daniel J. Drucker
"By 2030, about 500 million people worldwide will be affected by diabetes. Diabetes is the disease of the 21st century, and it will surpass the health and economic implications of AIDS," Dr. Zinman says.
For more than 25 years, Dr. Zinman has had a leadership role in the Diabetes Control and Complications Trial (DCCT), the world's largest and most comprehensive diabetes complications study ever conducted in type 1 diabetes. The study has had a global impact on the treatment of type 1 diabetes, leading to more intensive treatment, tighter blood sugar control and fewer complications for patients.
Now, Dr. Bernard Zinman, a Lunenfeld Senior Scientist and also Director of the Leadership Sinai Centre for Diabetes, is enrolling patients in a research study to test the idea of putting diabetes into remission.
"By giving patients with type 2 diabetes intensive insulin therapy for a short period, less the a month, followed by a maintenance therapy we can rest the pancreas, repair beta cells and possibly put them into remission from the disease for an extended period of time," says Dr. Zinman.
He also explains how diabetes is affected by both genetics and environment. "We can't change our genes, but we can change our environment. Reasonably modest changes in diet and lifestyle, though, can help [turn things around.] By reducing body weight by seven per cent, diabetes can be reduced by 58 per cent, but changes are hard to implement."
Dr. Dan Drucker, a Lunenfeld Senior Scientist, is working on new therapies that are helping to greatly improve the quality of life for diabetes patients. His research on a subset of gut horomes, known as incretins, was key in the development of two recently approved therapies for treating type 2 diabetes.
Drs. Drucker and Zinman are now collaborating on clinical studies designed to understand how new diabetes therapies control blood pressure, with the goal of identifying how new diabetes medicationsmight ultimately reduce the development of cardiovascular complications.
Stem cell research brings new hope for diabetes treatments
In another area of Mount Sinai's Samuel Lunenfeld Research Institute, Associate Scientist Dr. Ian Rogers is at the forefront of creating stem-cell based treatments for diabetes. He and his colleagues are using stem cells to create natural replacements for essential cells in the pancreas that are destroyed by the illness, specifically in type 1 diabetes.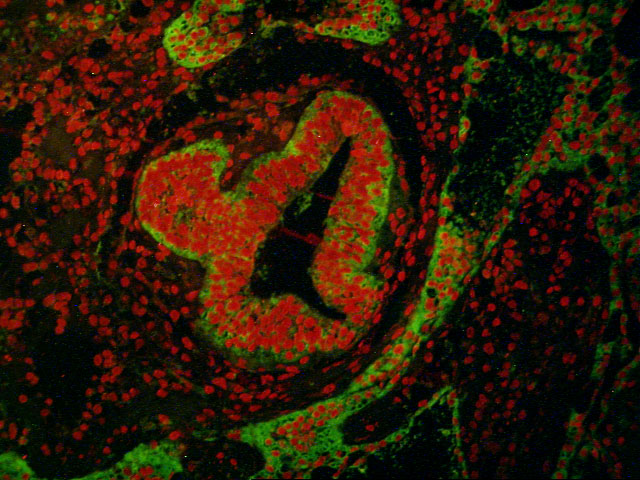 This image shows stem cells in a cell culture dish that have been directed to differentiate towards islet cells, which produce insulin. The cells shown here are still immature and disorganized, but are beginning to express important proteins such as glucagon (in green). These specialized cells will eventually be implanted in patients with type 1 diabetes to restore their natural insulin production.
For the past five years, Dr. Rogers has been focused on developing the regenerative capacity of umbilical cord and adult stem cells for clinical use, and so making them a part of future standard of care. Projects involve developing umbilical cord blood cells for the treatment of diabetic skin ulcers and peripheral vascular disease. Increasing the regenerative capacity of cord blood cells would extend their healing power beyond the blood diseases for which they are used currently.
"For the treatment of type 1 diabetes, we can differentiate stem cells into the critical cells of the pancreas that, in healthy people, measure blood sugar and produce the amount of insulin required to process it," says Dr. Rogers. "These specialized cells would then be implanted in people with diabetes to reactivate the natural process."
At this stage, Dr. Rogers' team is building a pancreas out of a surgical sponge, in effect a three-dimensional structure seeded with insulin-producing islet cells. Ideally, the pancreas would be grown in the lab and then placed under the skin of a person with Type 1 diabetes to restore their insulin production.
This is a highly sophisticated procedure, says Dr. Rogers. The most advanced research project in his lab is much simpler: regenerating blood vessels so people with Type 2 diabetes who have damaged fingers and toes (resulting from peripheral vascular disease) can avoid amputation.
To make the procedure safe, Dr. Rogers' lab is working to place the cells into porous bags that will allow the exchange of molecules between the cells and the body, but prevent the cells from escaping. This will also allow a physician to top up or replace the cells if they stop working.
Dr. Rogers notes that if the procedure works, a patient's cell implants would require replacements every few years in an outpatient procedure, to counteract the body's natural immune response that slowly destroys them.
"We envision using the stem cells to augment insulin injections," says Dr. Rogers. "At first, we expect the cells to reduce the number of injections a patient requires. Eventually, as the procedure of generating islets becomes more efficient, we anticipate the patient will be able to go for months or even years without having to inject insulin."
By Sandeep Dhaliwal