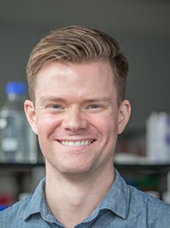 Lunenfeld-Tanenbaum
Research Institute
Mount Sinai Hospital
Joseph & Wolf Lebovic Health Complex
881 - 600 University Avenue
Toronto, Ontario Canada M5G 1X5
Tel.: 416-586-4800 ext.8267
► Web of Science Researcher ID
AAL-7751-2020
Dr. Hartland W. Jackson
INVESTIGATOR
Dr. Hartland Jackson is an Investigator at Lunenfeld-Tanenbaum Research Institute, Sinai Health, and an Associate Scientist, Ontario Institute for Cancer Research.
Dr. Jackson's research involves the use of mass cytometry for highly multiplexed imaging of tumour tissues and the development of methods for the analysis of spatially resolved single cell data.
He obtained his PhD from the University of Toronto and undertook postdoctoral training at the University of Zürich. His work with high-dimension pathology imaging of breast cancer patient samples has revealed the organization of the tumour microenvironment and identified single-cell defined patient subgroups with distinct clinical outcome.
The Jackson lab strives to understand tissues and tumours as the integrated outcome of their single cell components. To do so, they utilize multiplexed imaging to simultaneously quantify single cell phenotypes and markers of their functional state, as well as their interactions, overall organization, and contribution to tissue architecture. These methods facilitate spatially-resolved screening of distinct clones in mouse models of disease and the identification of biomarkers associated with clinical outcome in biobanked patient tissues.
Research efforts are focused on identifying and targeting the multi-cellular tumour microenvironments that drive disease progression and therapeutic resistance in cancers of the breast and other epithelial tissues.
At a Glance
Investigator, Lunenfeld-Tanenbaum Research Institute and Associate Scientist, Ontario Institute for Cancer Research
Studies cancer at the single cell level, analyzing tumour cells and their microenvironments using cutting-edge imaging techniques
Postdoctoral fellowships from the European Molecular Biology Organization, the Systems X Swiss Biology Initiative, and the Canadian Institute of Health Research
Awarded the Cancer Research Society's Scholarship for the Next Generation of Scientists
Major Research Activities
Dr. Jackson's lab develops and applies technologies for the measurement of spatially resolved single cells in structured tissues. This work aims to understand tissues as system of cellular components, how these form, how they are altered during cancer formation, and their use as biomarkers for precision medicine applications.