Message from our Director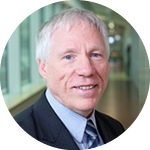 A Message from the Interim Director of Research
On behalf of my colleagues within the Lunenfeld-Tanenbaum Research Institute, we welcome you to connect with us through this website and learn more about the discoveries happening everyday within our walls. The LTRI at Sinai Health is a robust research institution and a centerpiece of the Canadian biomedical enterprise. At our core is our people who make innovative discoveries and translate science into new diagnostics, therapies or clinical care models. Through a collective vision, our scientists, clinician scientists, clinical practitioners, trainees and staff have created one of the most exciting and successful hospital-based research institutes in Canada and internationally.
Since our founding in 1985, the LTRI has developed a strong reputation for attracting and supporting exceptional researchers with a strong focus in discovery biomedicine. Thanks to our people, the LTRI has established itself as a leader in systems biology, cell and molecular biology, neurosciences and neurodevelopment, stem cells and developmental biology. We've built outstanding research programs that are integrated and embedded in hospital clinical programs in the fields of diabetes, obstetrics & gynecology, pediatrics, oncology, surgery, critical care, rheumatology, gastroenterology, pathology and laboratory medicine, infectious diseases and infection control and more. Our researchers have forged critical alliances and collaborations across Canada and around the world. Through partnerships with industry, or through their own commercialization strategies, LTRI scientists have helped bring the benefits of their discoveries to Canadians and the world.
The value of scientific research has never been more apparent than during the COVID-19 pandemic. Our researchers have leveraged their expertise and access to advanced technologies to lead Canada-wide initiatives focussed on high throughput sequencing to identify COVID variants, large-scale screening of COVID exposures, defining the impacts of COVID on vulnerable populations, including women and children, as well as assessing the long-term consequences of COVID infections. During the midst of the pandemic, staff and trainees supported hospital operations and clinical departments in ensuring the public had full access to COVID testing.
We encourage you to explore this site and read the many stories that describe the impact of our research.
Dr. Stephen Lye
Interim Director of Research
Lunenfeld-Tanenbaum Research Institute